Expired: Event and Marketing Coordinator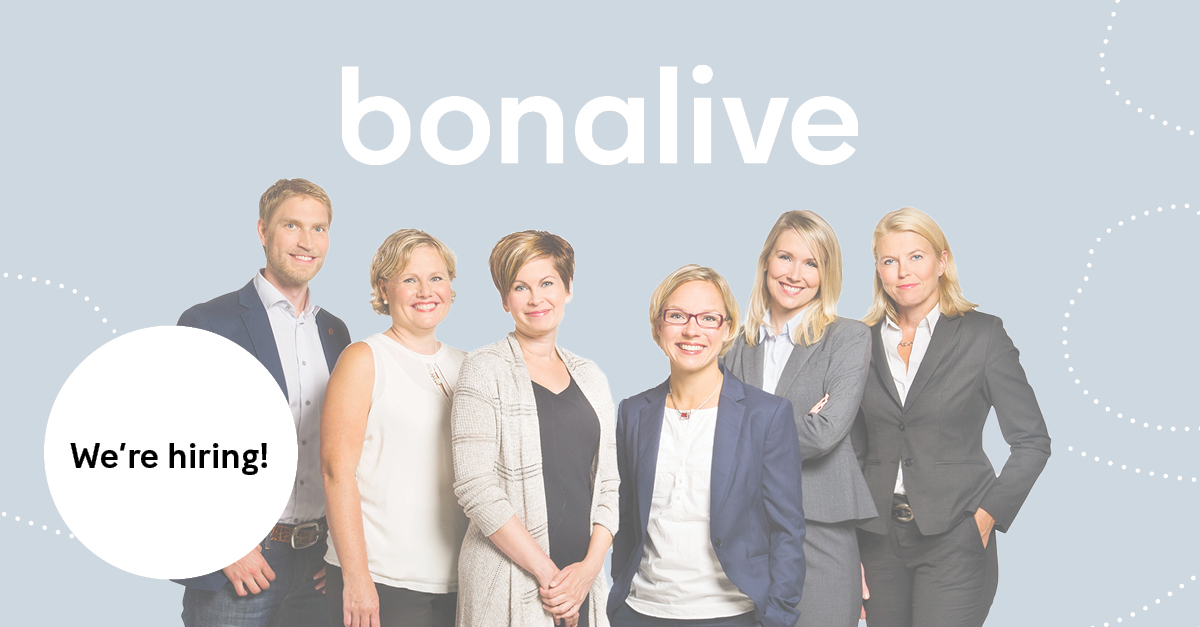 As the world seeks answers to the growing threat of antibiotic resistance, Bonalive represents a new standard in patient care. Evolving at the intersection of technology and human biology, our Smart Healing™ technologies reduce antibiotic treatments and enable a better quality of life for patients. Smart Healing™ encompasses our commitment to our customers. It defines everything we do, in providing patients and surgeons well-proven and safe bone regenerative products in orthopedics, trauma, spine, septic bone and ear surgery.
Bonalive is a smart biomaterials company transforming the future of healthcare. With one of the most evidence-based technologies in the industry, we are creating a smarter future for healthcare. Bonalive is an ISO 13485:2016 certified, Class III medical device company, headquartered in Turku, Finland. www.bonalive.com
Event and Marketing Coordinator
Turku, Finland
We are looking for a customer-centric Event and Marketing Coordinator to strengthen our Marketing Communications team in Turku, Finland. The role is fixed-term until 31.12.2022 at least, starting as soon as possible. Depending on the growth of the company, you may have the opportunity for a longer-term assignment.
You have a genuine interest in people, and although you are very well organized and a great planner, you know that the only constant is change. You thrive in situations where quick thinking and positive attitude are required to bring things back on track.
Although the position is very much about working in an international environment with professionals from different business environments, most of the work will be done from the local office.
Your main tasks will be the following:
Coordinate the overall event calendar at Bonalive, including e.g. event bookings, event calendar, annual aims, related budgeting

Congresses – responsible for defined event projects from start to finish: setting up aims with the team, taking care of bookings, coordinating shipment and booth build-up, event information, organizing internal event briefs to the team, organizing wrap-ups after the event

Webinars – responsible for online events from start to finish: plan the manuscript with medical education team, coordinate the stream, market the events, internal wrap-up after the event

Live surgery courses – responsible for organizing the event from start to finish: setting up aims with medical education team, taking care of bookings, coordinating course material, coordinating camera set-up, event information, organizing internal event briefs to the team, organizing wrap-ups after the event

Planning the overall stand environment of Bonalive together with the Marketing Director and external stand suppliers

Responsible for customer travel and factory visits

Event marketing activities

Coordinating the medical education concept Smart Healing Center together with the marketing team and the medical education team
What we expect from you
Demonstrated experience and passion for organizing events

You are a goal-oriented problem solver; you think several steps ahead and you work smart

Service first – you have the skill to identify the needs of your colleagues and customers

Fluency in English and Finnish, other languages such as German are considered a merit

Comfortable in using different software to organize, scale and ease your workload

You work well under pressure and you enjoy project management

Willingness to travel to organize courses and congresses abroad
We offer you a growing company atmosphere with an ownership mindset that allows you to make close-to-the-customer decisions and an innovative approach in seeing beyond what is possible today in medical device technology. Your contribution will make an important impact in the world where infections need to be increasingly treated and prevented with new solutions without antibiotics. Welcome to our team!
The position will be filled as soon as a suitable applicant is found.
For further information about the position, call Ulla Lumiainen, Marketing Director, tel.  +358405929910, Mon 15th of Nov at 15.00-16.30 or Thu 18th of Nov at 9-10.30.
If you are interested, please send your application with your salary request and CV to recruitment@bonalive.com by 21.11.2021 at the latest. We go through applications as they come, so do not hesitate to send your application today.