Turku

Quality & Regulatory Affairs
We are looking for a highly diligent Quality Manager to Bonalive Biomaterials Oy in Turku.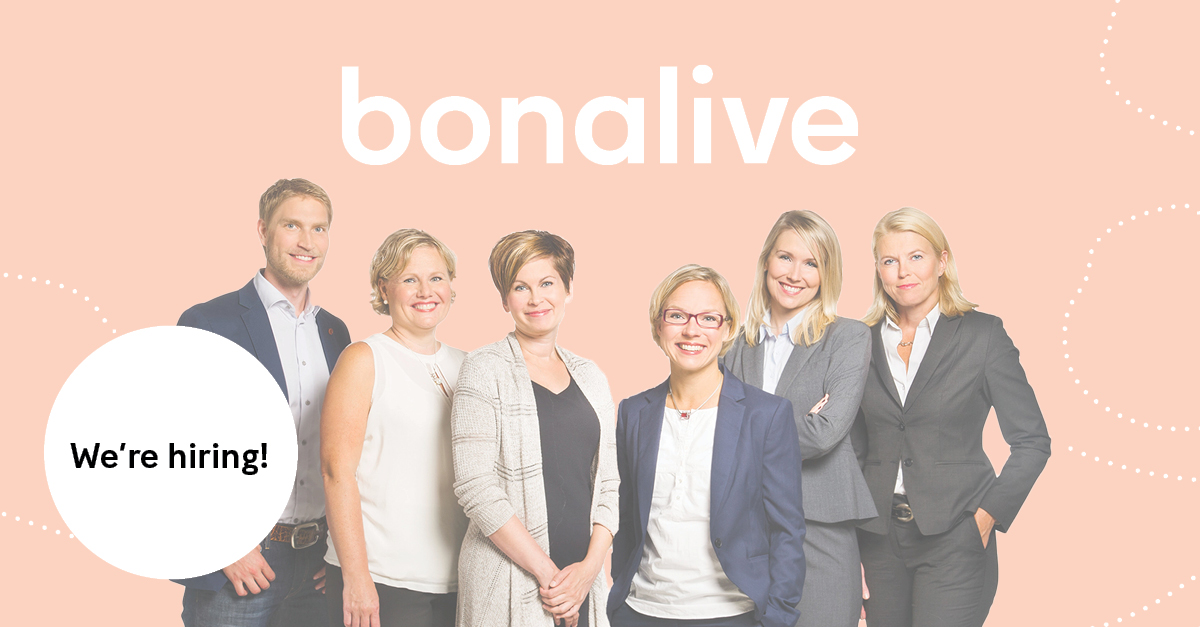 As the world seeks answers to the growing threat of antibiotic resistance, Bonalive represents a new standard in patient care. Evolving at the intersection of technology and human biology, our Smart Healing™ technologies reduce antibiotic treatments and enable a better quality of life for patients.
Smart Healing™ encompasses our commitment to our customers. It defines everything we do, in providing patients and surgeons well-proven and safe bone regenerative products in orthopedics, trauma, spine, septic bone and ear surgery. Bonalive is a smart biomaterials company transforming the future of healthcare. With one of the most evidence-based technologies in the industry, we are creating a smarter future for healthcare.
Bonalive is an ISO 13485:2016 certified, Class III medical device company, headquartered in Turku, Finland. www.bonalive.com
Quality Manager
Your main tasks will be the following:
Coordinate a team of experienced quality professionals and support optimal use of QA resources
Plan and conduct internal and external audits, and improve audit processes
Based on your area of expertise, conduct Design Reviews for new product development projects, review and submit substantial changes, review quality agreements or other tasks that ensure efficient quality system
Identify and interpret new or updated standards, and coordinate the implementation of new requirements in quality management system with experts
Initiate and coordinate quality improvement processes
Promote the creation, implementation and development of best practices and written instructions
Collaborate with production, regulatory, and sales & marketing teams to ensure that our Quality system meets the applicable requirements of new market areas.
We expect you to have:
Bachelor degree or M.Sc. (medicine, pharmacy, biosciences, engineering or another relevant scientific discipline)
At least 3 years of experience in medicine, pharmacy, engineering or other relevant scientific discipline
Experience from Quality systems and their requirements
Basic knowledge of ISO 13485, FDA 21 CFR 820 QSR, and MDR 2017/745 preferred
Professional experience in quality management systems or regulatory affairs relating to medical devices, IVD or pharma industry
Demonstrated writing capability
Independent, self-directed person with excellent organization and communication skills
Good or excellent English writing skills
Good Finnish communication skills
Good or excellent MS Office skills
You have excellent attention to detail, and the mindset needed for navigating industry regulations. You build trust, good working relationships and communicate effectively with your colleagues and across functions.
We offer you a unique small company atmosphere with an ownership mindset that allows you to make close-to-the-customer decisions and an innovative approach in seeing beyond what is possible today in medical device technology. You have a great opportunity to steer the role in the direction that interests you – in a growing company your motivation and capabilities set the limits. Your contribution will make an important impact in the world where infections need to be increasingly treated and prevented with new solutions without antibiotics. Welcome to our team!
The position will be filled as soon as a suitable applicant is found.
For further information about the position, call Anne Timonen, Director Quality, tel. +358 40 173 7720, Mon 18th of Oct at 16.00-17.00 or Tue 19th of Oct at 09.00-10.00.
If you are interested, please send your application and CV to recruitment@bonalive.com by 01.11.2021 at the latest. We go through applications as they come, so do not hesitate to send your application today.