Expired: VP, Commercial Excellence
Turku, Finland

Commercial team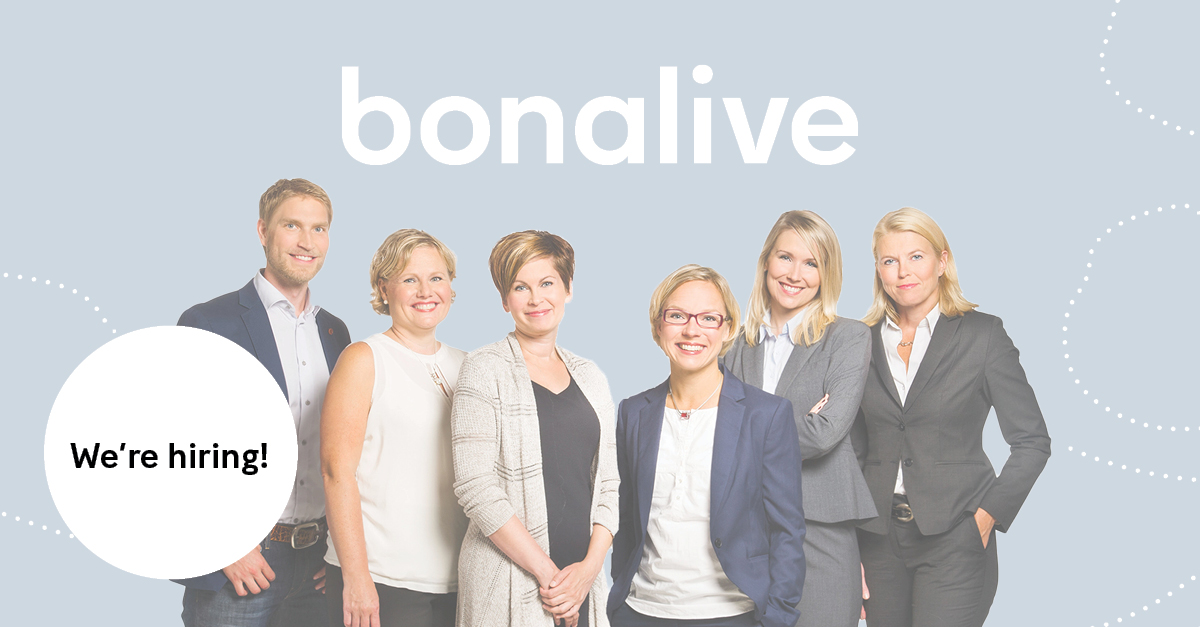 As the world seeks answers to the growing threat of antibiotic resistance, Bonalive represents a new standard in patient care. Evolving at the intersection of technology and human biology, our Smart Healing™ technologies reduce antibiotic treatments and enable a better quality of life for patients. Smart Healing™ encompasses our commitment to our customers. It defines everything we do, in providing patients and surgeons well-proven and safe bone regenerative products in orthopedics, trauma, spine, septic bone and ear surgery.
Bonalive is a smart biomaterials company transforming the future of healthcare. With one of the most evidence-based technologies in the industry, we are creating a smarter future for healthcare. Bonalive is an ISO 13485:2016 certified, Class III medical device company, headquartered in Turku, Finland. www.bonalive.com
VP, Commercial Excellence
We are looking for a customer driven VP, Commercial Excellence at Bonalive Biomaterials Oy in Turku. In this role, you will have the opportunity to build and drive a global medical device brand with innovative commercial strategies to create long-term customer relationships. You will lead a commercial team of medical education, marketing and sales professionals to create and deliver the means by which our customer will achieve success. The role calls for a genuine desire to work for the good of people and for an improved world.
Your main tasks and responsibilities will be the following:
• Be a spokesperson for Bonalive brand strategy
• Design and implement strategic commercial plans to reach company targets, directed towards strong and profitable growth
• Run the commercial activities, like processes in a smart and measurable way for the protection of Bonalive's uniqueness
• Develop and oversee a strategy for our entire portfolio of products and solutions
• Lead staff to ensure a seamless customer service to our global customer network
• Run key opinion leader programs and cultivate customer loyalty
• Work with distributor customers and healthcare professionals ensuring customer loyalty and advocacy
• Ensure high-quality customer service for the global distributor network
• Assess costs, competition, supply and demand to identify selling prices
• Estimate sales volume and profit for current and new products
Team roles
• Serve as a member of the Bonalive Management team
• Lead our Commercial Team with Medical Education and Corporate Marketing & Communication
• Lead sales professionals
• Work closely with R&D, Quality and Manufacturing operations
We expect you to have:
• At least a Bachelor's level degree in a relevant field, such as a Life Sciences, Marketing, or Business Administration
• A minimum of 5 years' experience in a similar role in the healthcare sector
• In-depth knowledge of best practices in the medical industry
• Knowledge of the importance of digital marketing technology
• Experience from the orthopedics, trauma or spine industry
• Excellent communication, collaboration and people skills
• Capacity to manage various projects and work according to tight deadlines
• Excellent negotiation and leadership skills
• Outstanding written and verbal communication skills in English (mandatory) and Finnish (preferable)
We offer you a unique small company atmosphere with an ownership mindset that supports seeing beyond the possibilities of today in medical device technology. You will make close-to-the-customer decisions and cooperate with other commercial professionals in delivering value to our global network of distributors and healthcare professional customers. You will play a key role in developing the global commercial strategy for the company, building clinical solution concepts with key opinion leaders and ensuring execution thereof. Your work will make an important contribution to realizing our vision of enabling a world where infections can be treated without antibiotics.
For more information concerning the company and the open position, please contact human360 Finland Oy's managing partner Kari Forss, mobile +358 40 503 1124 and email: kf@human360.net