Petteri Pulkkinen to take over as new CEO of Bonalive Biomaterials
June 7, 2021

09:00
Bonalive Biomaterials Ltd. has appointed Petteri Pulkkinen as the company's CEO. Pulkkinen will take up his new position on September 1, 2021. Current CEO, Fredrik Ollila, will continue as Chairman of the Board and will transfer to the United States in 2022 to become President of Trimed Bonalive Inc., the joint venture of Trimed Inc. and Bonalive Biomaterials Ltd.  "With new changes come new possibilites", comments Ollila.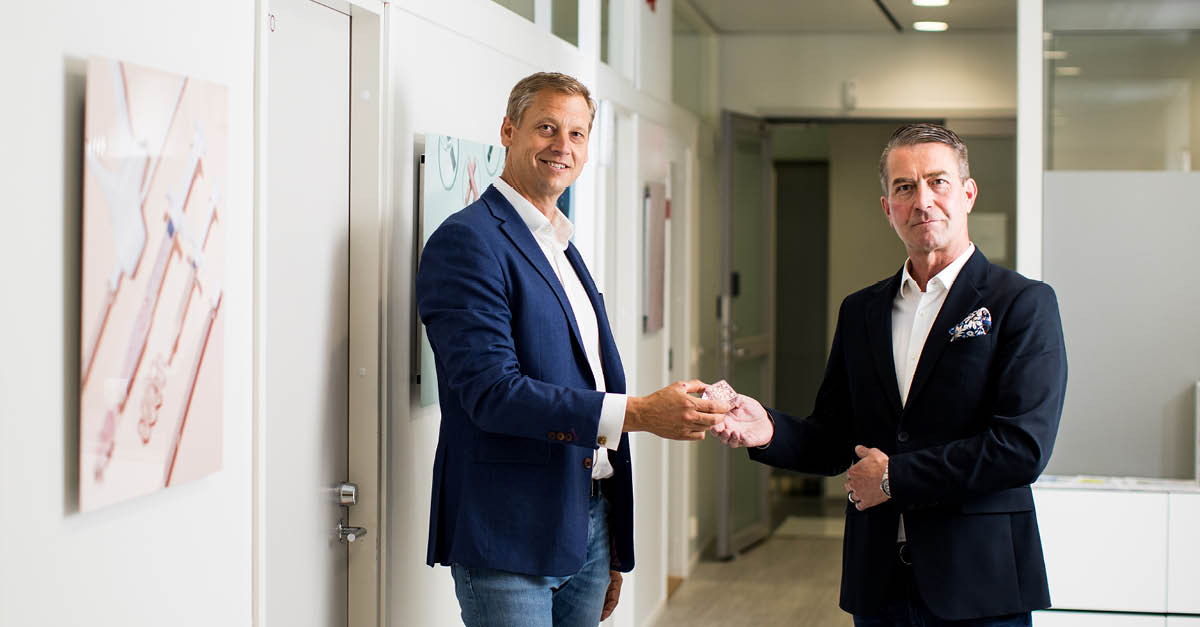 Fredrik Ollila and Petteri Pulkkinen (photo by Jaska Poikonen)
Newly recruited by Bonalive Biomaterials, Petteri Pulkkinen brings over 20 years of experience from the medical device industry. His former employers include Stryker, Smith and Nephew and, most recently, Olympus, where he has been the Managing Director of Finland and Baltic countries.
"I am very much looking forward to this challenging and great opportunity in Bonalive. I am eager and excited to learn more about the company ideology and the team of experts behind the company and the innovative products", says Pulkkinen.
"Bonalive is and will be drawing the future of the medical device field in many aspects. One of my future tasks as CEO will be to keep our employees and owners happy so that they can keep our customers happy. The main principle remains; people collaborate with people", adds Pulkkinen.
"The main principle remains; people collaborate with people."
Current CEO and Chairman of the Board, Dr. Fredrik Ollila can only agree:
"It is with great confidence and gratitude that I will be handing over the position of CEO of Bonalive Biomaterials. Petteri Pulkkinen has been endorsed for his excellent leadership skills and his resolute approach in delivering only the best-quality service and products to customers. This is perfectly in line with the Bonalive promise of Smart Healing™. With new changes come new possibilities", concludes Ollila.
For media, please contact:
Dr. Fredrik Ollila
Phone: +358 (0)400 931 209
Email: fredrik.ollila[at]bonalive.com
Bonalive Biomaterials Ltd is a leader in the development of novel antibiotic-free products for bone regeneration in orthopedic and ENT surgery. The company manufactures and sells implantable biomaterials based on bioactive glass S53P4 for bone regeneration used in the surgical treatment of bone infections, diabetic foot osteomyelitis, spinal fusions, benign bone tumor surgery and mastoid surgery. The clinical use of Bonalive® is supported by a 20-year history of research and more than 200 scientific papers.