Pros and cons of 5 bone graft substitutes
November 8, 2022

12:42
What features would an ideal bone graft substitute have? What are the pros and cons of different types of bone graft substitutes? In this blog post, we try to give a simple answer to these complex questions with the help of relevant literature.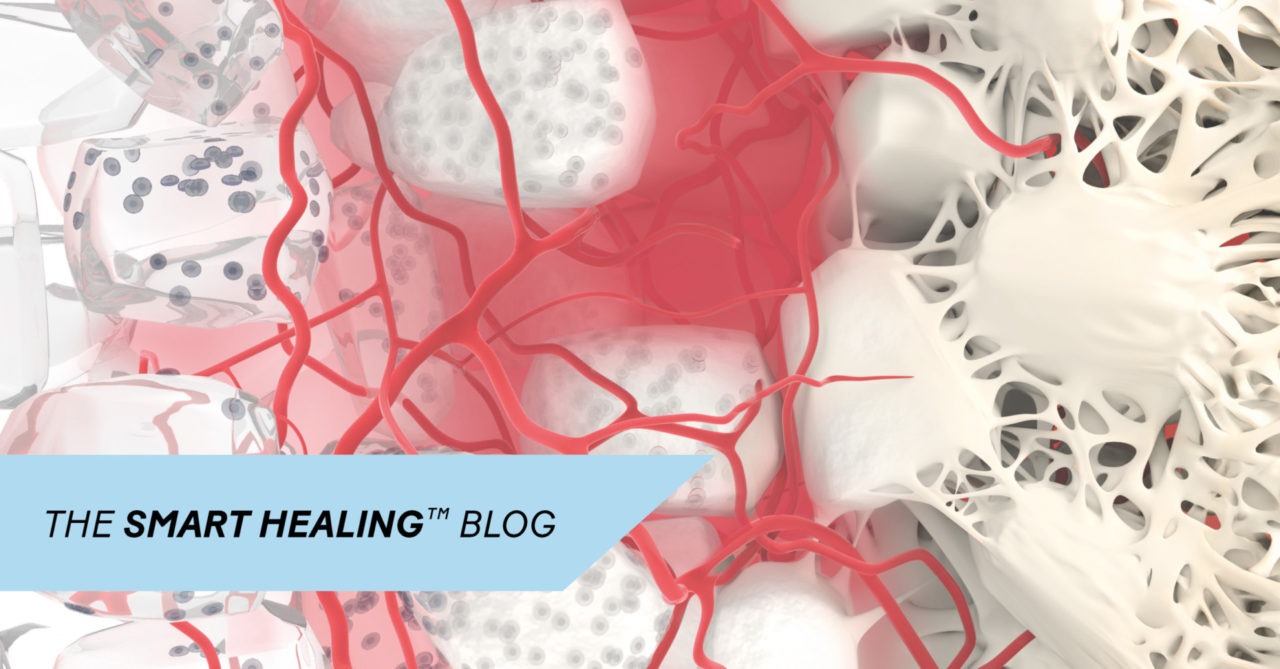 Need of a bone graft substitute
The skeletal system is developed and maintained by two continuous processes: bone modeling and remodeling. New bone growth occurs, and damaged bone is repaired or removed. Sometimes, however, additional assistance might be needed for the bone to heal and repair itself.
Orthopedic and trauma surgeons are regularly confronted with situations where an empty cavity remains in the patient's bone. This can happen, for example, after removal of tumors or infected bone tissue. Depending on many factors, such as the patient's age and background, defect type, site and size, additional material might be needed to fill the cavity and help the bone heal itself.

Finding the ideal bone graft substitute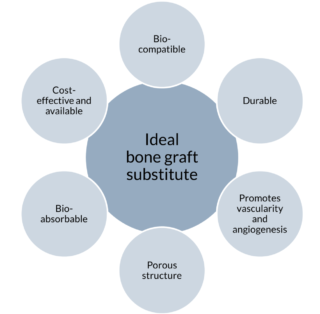 An ideal bone graft should first and foremost be biocompatible. This means that the body will accept the foreign material i.e. it does not evoke an immune response. The material should be durable; the shape, volume and structure should be maintained over time.
The bone graft substitute should also allow for and ideally promote the forming of new blood vessels (vascularity and angiogenesis). A porous structure is thus required – so that oxygen and nutrients might be transported to the cells and tissues. To make space for bone ingrowth, the material needs to be bio-absorbable. Finally, the bone graft substitute should be cost-effective and readily available for purchase.2
The material should be durable; the shape, volume and structure should be maintained over time.
Besides the material itself having different properties and features, the biological environment and mechanical stability are important to consider. How well vascularized is the cavity site? Is there an ongoing or high risk of infection? Does the patient have osteoporosis or diabetes?
The diamond concept
The 'diamond concept' is a framework describing 4 integral factors of bone healing: osteoconductive scaffolds, growth factors, mechanical environment, and osteogenic cells. All of them need consideration when planning the treatment. Prof. T. Blokhuis shortly describes the diamond concept in a Bonalive webinar excerpt from 2021 below.
Watch the full webinar recording in the Smart Healing Center.
Comparing alternatives
| Natural bone grafts | Advantages | Disadvantages |
| --- | --- | --- |
| Autogenous bone (own bone) | Osteogenic, osteoconductive, osteoinductive, no rejection2 | Donor site pain, increased blood loss, tissue availability, increased risk of nerve injury2 |
| Allogeneic bone (bank bone) | Less chance of donor morbidity, no size limitation, less surgical intervention, cosmetically better results, reduce period for rehabilitation2 | Risk of disease transmission, risk of host immune response, high cost, delay in incorporation, local bone resorption2 |
Synthetic bone graft substitutes
Advantages
Disadvantages
Demineralized bone matrix, DBM (allogeneic based)
Osteoconductive2, osteoinductive2, various forms, unlimited supply2, extensive clinical experience2
Risk of disease transmission, varying biologic properties3, inconsistent osteoinductive property3, variable clinical response4
Ca-P ceramics
Osteoconductive5, available in various shapes, compositions, and porosities (therefore also properties)5, can be mixed with e.g. antibiotics5
Unlimited supply, long shelf life
Poor degradability6, requires mixing*6, limited working time*6 Handling and properties differ among products
*In case of injectable paste
Bioactive glasses
Osteoconductive7, osteostimulative7
Available in different unit sizes, unlimited supply, long shelf life, composition-dependent properties (e.g. S53P4 inhibits bacterial growth8)
Handling (granules)
Growth factors
Advantages
Disadvantages
Bone morphogenetic proteins (BMPs)
Osteoinductive9,
osteostimulative9
Risk of seroma formation10, ectopic bone formation11 and bone degeneration12, increased risk of cancer13, high cost2
It comes down to the use case
When choosing what type of bone graft substitute to use, it depends on many factors. Dr. Blokhuis stated in the webinar: "There's no single material that is the best material – you have to think about it in a way of concepts (…)". Which factors from the diamond concept would you have to add to the defect to increase the chances of treatment success?
Watch the full webinar recording in the Smart Healing Center.
Want to learn more about S53P4 bioactive glass?
By stimulating new bone formation through osteostimulation*, Bonalive® S53P4 bioactive glass induces a high but balanced local bone turnover. As such, Bonalive® bioactive glass has the ability to stimulate bone formation and restore anatomical structures in both adult and pediatric patients.14 By effectively sustaining the bone cavity volume long term, Bonalive® granules can be used even in the most demanding large cavities.15
*non-osteoinductive
See the clinical areas of use for S53P4 bioactive glass.
Read the story behind the S53P4 composition.
---


About Bonalive Biomaterials Ltd
Bonalive is a smart biomaterials company transforming the future of healthcare. With one of the most evidence-based technologies in the industry, S53P4 bioactive glass, we are creating a smarter future for healthcare. Evolving at the intersection of technology and human biology, our Smart Healing™ technologies reduce antibiotic treatments and enable a better quality of life for patients. Bonalive is an ISO 13485:2016 certified, Class III medical device company, headquartered in Turku, Finland.